This week Gracie Barra Blog brings you an interview with Prof. Bart Albers who has recently opened a new Gracie Barra academy in Amsterdam, Netherlands.
"If you think you like it, embrace it and enjoy the ride!!"
GB: Can you tell the readers at Gracie Barra a little about your background? Where did you grow up and how did you get started in brazilian jiu-jitsu?
Prof. Bart Albers: My name is Bart Albers, 32 years old and I am a black belt instructor at Gracie Barra Amsterdam. I was born in the south of the Netherlands where I grew up in a small town called Venray. As a kid, I always wanted to do martial arts. I watched a lot of movies with cult heroes like JC Van Damme, Chuck Norris, Arnold Schwarzenegger, Sylvester Stallone and Steven Seagal. Most of the movies I watched over and over again and each time I wanted to be able to do the same moves as those actors did. However the town I grew up in, didn't offer a lot of martial arts and besides, my family was pretty much gymnastics oriented. So I ended up practicing gymnastics for about 8 years. Due to injuries and the fact that I lost my motivation to practice gymnastics, I started to do some fitness to keep in shape. When I went to college, I moved to a bigger city where they teaches a lot of martial arts. So I finally could follow my long cherished desire to practice martial arts. I started to practice Judo, Japanese Jiu-Jitsu and Karate. Due to my gymnastic background, my flexibility, body coordination and strength became pretty useful. I practiced these disciplines for several years after which I got introduced to BJJ. A teammate of mine, Jochem Branderhorst, was practicing jiu-jitsu in his home town where Remco Pardoel was teaching. He told me that if I wanted to learn from the best, I had to come along with him. So I did and I am still grateful that I took this step. Although Remco Pardoel was teaching Japanese jiu jitsu and judo as well, his focus shifted more and more towards BJJ and that is how I started with Brazilian jiu-jitsu.
GB: Who have been the biggest influences on your jiu-jitsu and what did you learn from each of your professors?
Prof. Bart Albers: Back then, I joined a very strong and motivated team. We were all young and hungry. We trained a lot and went to as much tournaments as possible. We always managed to win medals, even at the Europeans. That enhanced the team cohesion and motivation to train even harder. As a result, the team started to grow with more skillful practitioners. Remco and his instructors were teaching kickboxing, MMA, and other disciplines as well. All with students who managed to perform well in the competition circuit at various disciplines. So we became better, larger and more all-rounded. Once Jochem received an opportunity to start his own gym, that was closer to the city where I lived, I started to train at his place as well. Eventually, also Jochem's gym started to grow into a well-established martial arts school with a lot of skillful students. Especially regarding BJJ. For me, that is a sign of very good entrepreneurship and a sign that you deal with professors who know the game. Remco and Jochem nailed their journey.
But what I learned most of both Remco and Jochem is my pressure game and that a fight is not over until you get the tap. Even when you are ahead on points. A fight is really decided when someone taps, so you need to fight for it till the last second. Within each school, the atmosphere was no nonsense. The phrase 'put your money where your mouth is' could be the name of the gyms actually hahaha.. Yes, a lot of jokes were made and man, what did I laugh a lot. But not during training. Training could be harsh, but always with the right mindset: "Go for the tap, first take your positions, and then go for the submission. Push yourself, give everything. Don't give your opponent the feeling that he can win the match." They were not only focusing on teaching you the proper techniques and details. I mean, Remco always quoted "everybody can learn techniques and be good, but the details of the techniques make a champion". So a lot of time was put into the details, which makes perfectly sense. But what they also did was teaching you to have a right mindset. Not being arrogant, or brag about how good or cool you are or what so ever. Just put your mouth where you money is and let the results do the talking.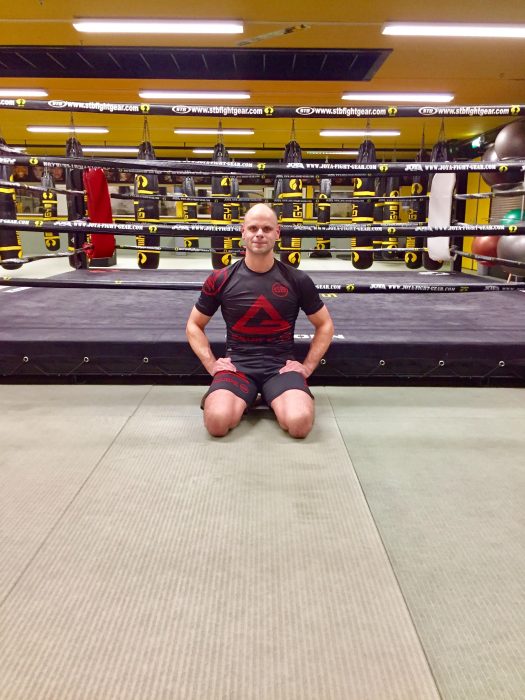 GB: How did training Jiu-jitsu change your life?
Prof. Bart Albers: I think jiu-jitsu and the no-nonsense atmosphere at the school where I trained, helped me grow as a person. I became more humble, self-aware, and able to deal with stress. Jiu-jitsu can be very intense, intimate, confronting and even intimidating from time to time. Especially when you also compete at IBJJF tournaments. When you cannot deal with that, your stress level (amongst others) will rise sky high. I have seen many people 'come and go' because the level of stress they experienced became too much. One of the common causes of the stress, is that the 'ego'-thing is a factor that a lot of people cannot deal with when practicing jiu-jitsu. I have been practicing BJJ over ten years and rolled with a lot of different people. Sometimes with high-level black belts, other times with peers and lower belts. Every roll has a different experience with a different impact on your body and mindset. In the beginning of my journey for instance, I got smashed over and over again when I was in a halfguard position (bottom). Instead of blaming others, blocking my mindset, look for excuses, or got too frustrated and avoid the position, I regrouped myself and became eager to develop my halfguard. It is good to be exposed to yourself from time to time. You become vulnerable and those moments help you to become really self-aware and deal with similar situations in the future. I mean, as of today, my halfguard is one of my assets in my game. As long as you are open minded and are always eager to learn, not only on your techniques but also on your attitude when stepping on the mat, you will experience a beautiful BJJ journey. If you think that you already know your stuff or you don't allow yourself to tap against lower belts for instance, please stop training, go home, and rethink what you are doing and what your purpose is of training Jiu-jitsu.
GB: What do you try to communicate to your students about the benefits of training Jiu-Jitsu?
Prof. Bart Albers: Naturally, what I learned from my professors is what I pass on to my students: put your money where your mouth is, be humble, self-aware and able to coop with stress. But that is not all. BJJ connects people and shape you as a person once you become addicted to the sport. Mostly, you either love it or you don't. But once addicted, you become part of a social group that has a strong shared interest. You start to learn from each other in different kind of ways. It shapes your ground game with all kind of chokes, locks, and tactics. But also your mindset and how you deal with different kind of situations. The benefits are endless. Whether you want to lose weight, get in shape, start building your confidence, gain strength, want to be a part of a group, do a total body workout, become flexible, want to practice a martial arts, want to compete etc. BJJ can offer all that. It is a beautiful and intelligent sport that challenges and shapes everybody. Mentally and physically! My main message is therefore "If you think you like it, embrace it and enjoy the ride!!"
GB: You have just opened a new Gracie Barra academy in Amsterdam, Netherlands. Where is your Gracie Barra school located? Please tell us about your new facility.
Prof. Bart Albers: We train at the famous Mike's gym in Amsterdam. It is a big gym that offers martial arts, fitness, and many other sports. The school is located near the border of the city of Amsterdam where a lot of high level and high profile kickboxers train. That can be pretty intimidating for new students and a threshold for people to try or join a class. Especially when famous non-Dutch fighters choose Mike's gym to prepare themselves for their upcoming fights. Those fighters join the BJJ classes as well from time to time, which is off course a great bonus for us. But people think sometimes that they need to be in top-shape to join a class. GB: Can you tell us about the exciting things you have planned at the academy? What programs do you have in the academy for different types of students?
We just adjusted our schedules and approach of teaching the art. At this moment, we have four lessons a week and an open mat. So we train 5 times a week. Three gi session and one no-gi session for all levels. So every type of student can join our team. That is what you see in the current group. We have a strong and motivated team with a lot of martial arts experience if you sum those years up. We have men and women who are competition fighters, but also students who just want to train a 'harmless' martial arts once or twice a week. We have young and hungry people and we have the well experienced students who stopped competing a long time ago. Everybody is respected and welcome. Once we grow to a larger group of students, we will look into the possibilities to introduce for example a beginner's class and an advanced class. We don't have that scale at the moment yet, but we are working on it and we are growing.
Our classes always start with a short warming up followed by effective drills. My focus is that students learn to combine techniques instead of applying one technique over and over again. Afterwards, we teach the 'position of the month' with great detail after which we start rolling. The rolling sessions can consist of simulated competition matches, positional sparring, free sparring, and/or sparring with a single goal. GB: Starting brazilian jiu-jitsu classes can be a little intimidating for many people. Can you share a few tips for new students to bjj?
First of all, I believe the professor and the atmosphere in your gym can take the intimidating factor away a bit, by guiding new students more intensively (with no pressure) till the point that they found their way into the gym and group. Whether they want to compete, or just want to practice BJJ to keep in shape, or to prevent immobility of certain body joints for instance, there should be room for everyone. That is also why I truly believe in the GB motto "Jiu-JItsu for everybody". But what I always tell starting students is that they need to be aware what they are going to practice, why they are joining the class and want to achieve. I always start asking for it. Nicely of course J! It really helps a student when he or she has a clear view on what he or she wants to achieve and understands the many facets of BJJ. That also helps them to find a school that fits their purpose and 'feel right'. The latter is something you cannot influence that much as a professor or gym, but by helping a starting student to become aware of it and explain what your vision is, you mostly have a good base together once you have a match and a student chooses your gym as his home base.
GB: If you can give a single piece of advice for bjj students who want to improve their games, what would that advice be?
Prof. Bart Albers: I think one of my quotes above fits: "Be open minded and eager to learn.. always. Not only on your techniques, but also on your attitude."
on Gracie Barra : 5 Important Questions to Ask When Learning a New Move In Class
Credits: Mark Mullen 
Gracie Barra Black belt based in Saigon, Vietnam
Twitter: @MarkMullenBJJ
Original source: https://graciebarra.com/gb-news/gb-amsterdam/